In the fall of 2009, the official Two Silos Farm Reception welcoming world class show stallion Hadidi back to the US took place. Guest speakers, trainers, handlers and breeders from all over the country assembled in Springfield, Missouri for the event!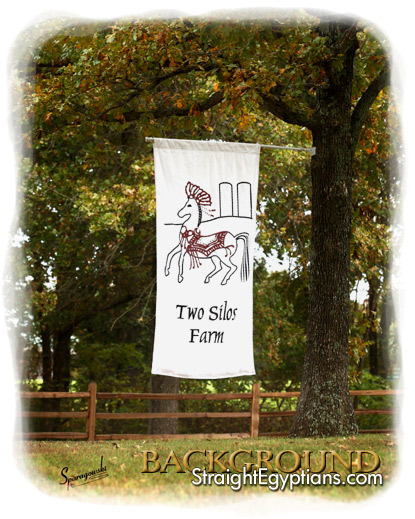 Following six days of torrential rains and flooding, the Midwestern skies finally yielded to hope and the clouds parted just hours before the presentation. The tent stakes held, the landscapers worked their magic, the caterer cast the tablecloths, and the champagne was placed on ice. Pregnant mares stood patiently sequestered in the barn in their grooming halters, the last touches completed on their silken white coats.
After 12 years abroad, a world class stallion had come home. Having garnered six major titles including Salon du Cheval World Champion Stallion, Egyptian Event Supreme Champion Stallion, Italian National Champion Stallion, and Germany's All-Nations Cup Supreme Champion Stallion, Hadidi was purchased by American breeders Joe and Gail Mailloux of Two Silos Farm.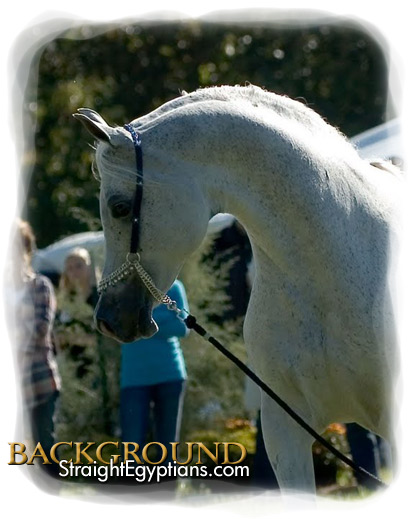 Hadidi
(Norus x Hebet Allah)
After arriving early in 2009, acclimating to his new life and a heavy breeding schedule, Hadidi was ready to be presented to the public. This was to be the first viewing of the Gleannloch-bred classic in the United States since 1997. This was a day of celebration!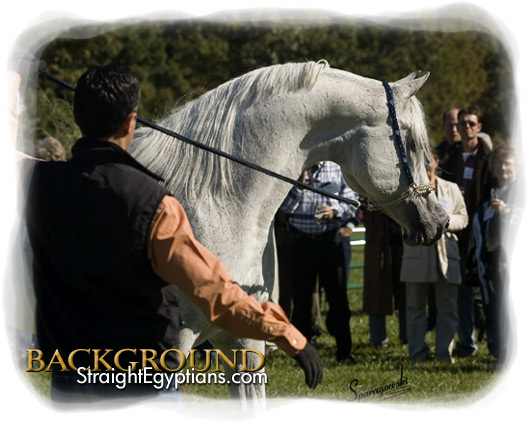 Hadidi
"We wanted people to have the opportunity to see him again," stated Gail Mailloux. "He was brought back here for a reason. We wanted to be sure people knew the reason, and we wanted to do everything we could to open the door."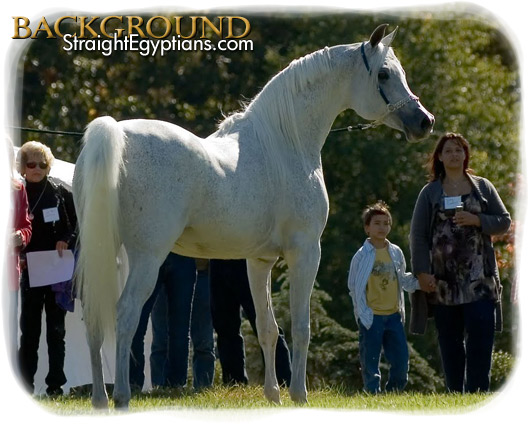 Hadidi
"Over 80 people joined us that day." The spirit of the day was everything that had been hoped for; a day of discussion, cooperation, and fellowship.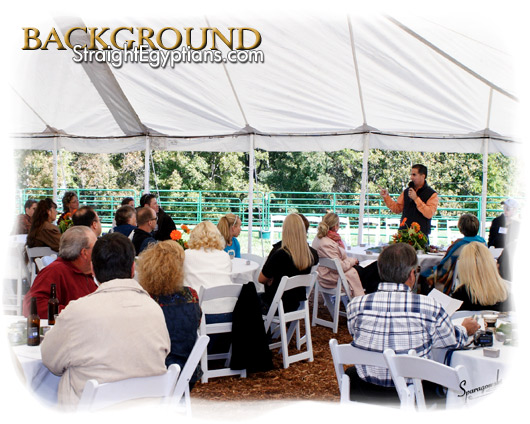 Trainer Joseph Polo was a guest speaker at the afternoon luncheon. He delivered an insightful presentation on what he sees as a need world-wide to return to breeding an Egyptian horse of stretch and scope, reminiscent of the straights that were so successful in the 70's and 80's. Guest speaker Bob Miars, acting as Pyramid Society representative, gave an update on the total number of foal registrations and delivered uplifting news that the Egyptian horse continues to increase in numbers in this country. He explained that the straight Egyptian horse is claiming more and more percentage space of purebred Arabian horses registered each year. One important aspect of the day had been completed. Now the music turned upbeat….it was time to view the horses.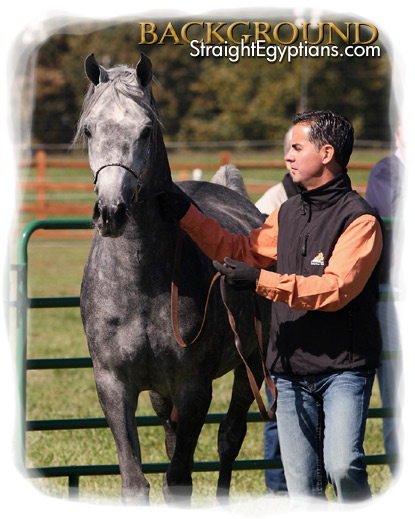 Shaikh Al Nadir
(Ansata Sinan x Nadira Fujai)
Two Silos Farm's exciting junior stallion Shaikh Al Nadir by Ansata Sinan was presented first, followed by his full sister TS I'll Take Champagne. Shaikh Al Nadir was his majestic dam's last act. Sadly she passed away bringing him into the world, but she left the farm with two super full siblings. Their dam Nadira Fujai was pure Gleannloch in breeding, by Shaikh Al Badi, and out of a treasured Mohssen daughter. Shaikh Al Nadir is a beautiful, well-balanced dappled slate grey, large and imposing, and an excellent mover. His older full sister was presented immediately following. She is equally substantial and balanced, with a short dishy head. TS I'll Take Champagne is carrying the first Hadidi foal expected this year, due in March 2010. This foal will have an especially desirable pedigree, with many lines to the historic Gleannloch, Ansata, and Bentwood breeding programs, giving expectations of a foal with scope, balance, and type.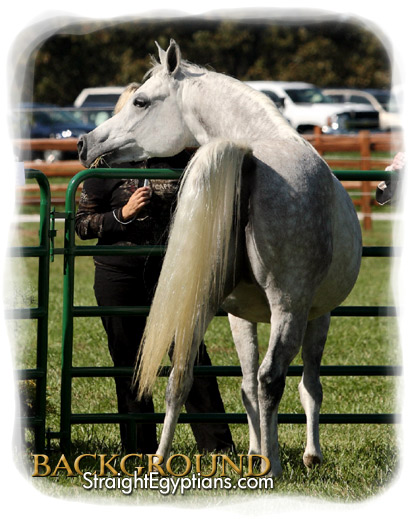 TS I'll Take Champagne
(Ansata Sinan x Nadira Fujai)
Then moving through the roster quickly, spectators were treated to a viewing of beautiful mares by Thee Desperado, Richter MH, Imperial Madheen, and Ansata El Nisr, gliding across the grass representing breeding programs of the past and present. Some were already in foal to Hadidi, some there to be bred. Through a cooperative effort these mares had been gathered to be covered by Hadidi. Truly the intent of the day was happening….mare owners with family legacies on the end of their lead lines had joined together, challenging their friendships to a new level of commitment and focus. The air was thick with the magic of the horse. During the mare presentation short introductions were made by some of the breeders that had gathered that day. Mitch Irwin of Amani Arabians presented Imperial Marbah to the audience. Also included in the crowd was second generation Egyptian horse breeder Jaleen Hacklander of the long-established Hadaya Arabian Stud, home of the highly accomplished stallion Hadaya El Tareef of years past. Ms. Hacklander spoke briefly about her role in continuing her mother's legacy as a breeder and the special mare, Nisr's Bint Kamal, who brought her to Two Silos that day.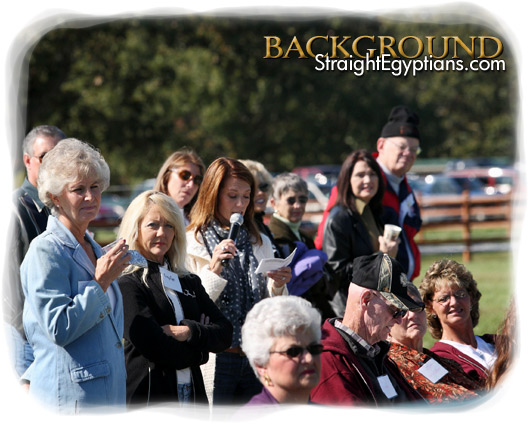 Guest Speaker Jaleen Hacklander
Next to be presented was the eagerly anticipated jewel among *Magidaa descendents, world class show and broodmare Savannah CC, and her two youngest progeny. This exquisitely beautiful matriarch was presented along with a young, exuberant colt by her side; Ahmar Ibn Adeed. Ahmar is sired by World Champion Al Adeed Al Shaqab. This bright bay colt quickly captured the attention of the crowd with his delightful demonstrations of "independence!"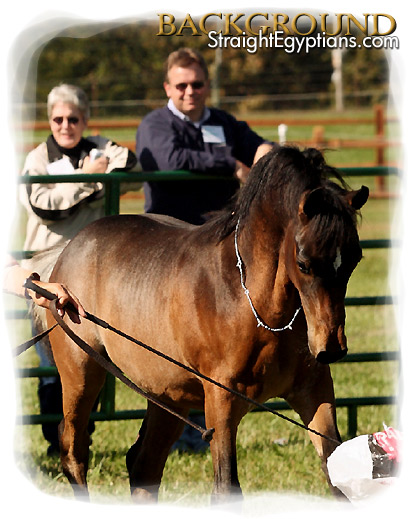 Ahmar Ibn Adeed
(Al Adeed Al Shaqab x Savannah CC)
Also representing this spectacular family was Savannah CC 's striking, ultra-typey and feminine filly TS Vivien Leigh by Ansata Sinan. Vivien appears in line to become Savannah's invaluable replacement in the future. Great things may be expected to come of both of these youngsters. Their older siblings have garnered titles worldwide including Israeli National Champion Junior Stallion, Egyptian Event Futurity Champion Colt, Egyptian Event Reserve Champion Futurity Colt, and Egyptian Event Reserve Champion World Class Mare. While Savannah herself was the Egyptian Event Reserve Champion World Class Yearling Filly, to date 100% of Savannah CC's foals to enter the show ring have been Champions; an elite accomplishment among broodmares.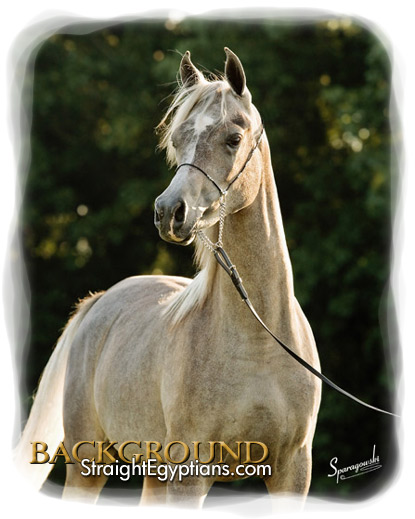 TS Vivien Leigh
(Ansata Sinan x Savannah CC)
Then finally, the highlight of the day, World Champion Stallion Hadidi! Gathering their breath, the crowd collected their glasses from the champagne table. Back in the barn the stallion that had crossed the Atlantic four times stood ready. For what must have been the hundredth time that he was being prepared for presentation, Hadidi glanced back coolly over his shoulder from his tether ring, stately towering over the straw of his stall floor. Emerging first from the barn was a mare, walking calmly, not to the ring, but to the grass where all were standing. Then, as the music swelled the big bay doors of the barn rolled back, and the horse that everyone came to honor stepped through.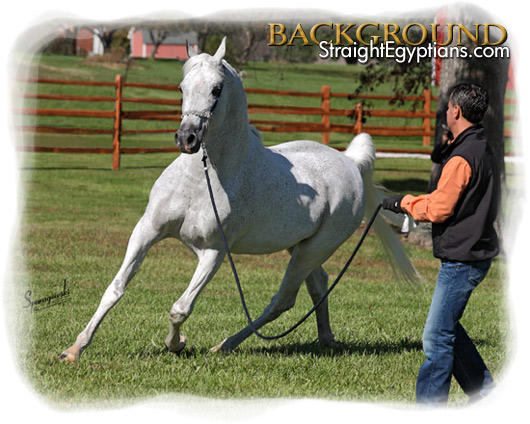 Hadidi
Trotting strongly, rising higher with each stride he fearlessly approached the crowd, and the mare. With the call of a stallion's heart he summoned her, and the dance began.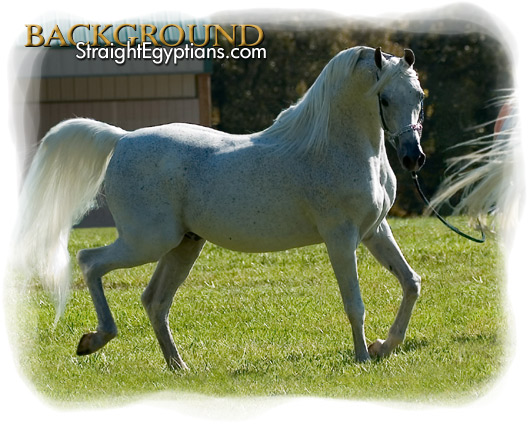 Hadidi
Amidst gasps of amazement and tears of recognition, all watched something beautiful. The tall, white stallion that had thrilled crowds as a show horse from Lexington to Paris, judged time after time by the toughest, had never been so beautiful as he was on that day….in the grass, on his farm, with his mare. At the announcer's bidding glasses were raised high, and all saluted the stallion who had accomplished so much in his life. "A toast to you, Hadidi, to your glorious past. Thank you for all you have done. Welcome, to the next great chapter in your life!"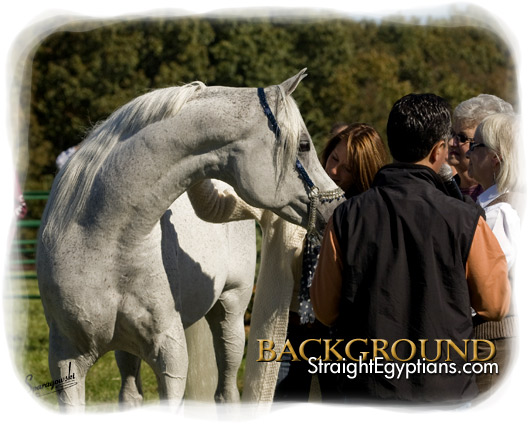 Hadidi